Lenses - Goyo
Visit Site
Get Quote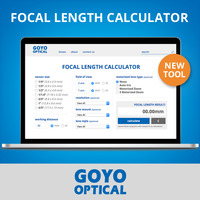 model number: Goyo Lens Calculator
Goyo North America announces the launch of its new Focal Length Calculator. This web tool allows users to quickly and easily calculate the most effective lens focal length for their system, ensuring the aspect ratio of the sensor size equally pairs with the aspect ratio of the object being imaged. The Goyo Focal Length Calculator was tested using the strictest standards and is proven to be more accurate than any other platform on the market. Goyo Optical Inc. provides High Resolution Industrial Lenses for Machine Vision and CCTV/Security applications. Focusing on excellent quality at an attractive price, Goyo offers more industrial lens designs than any single Machine Vision lens manufacturer in the world.
Quote Request
You are interseted in 0 product

Click finish below to complete your quote request.