Laser Modules - Global Laser
Get Quote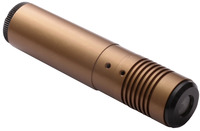 Lyte-MV Excel
model number: Lyte-MV Excel
Unique user adjustable focus without removing line optics. Laser classifcation maintained during focusing. Powers up to 100mW Red, 200mW I/R. Uniform non-Gaussian line with fan angles from 15 to 90 degrees. CW, Linear analogue modulation or digital TTL control Improved linewidth.
Quote Request
You are interseted in 0 product

Click finish below to complete your quote request.