Laser Modules - Global Laser
Get Quote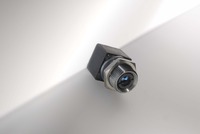 Cameo
model number: Cameo
The Cameo series is a miniature laser diode module that has a threaded barrel for easy bulkhead mounting and which ensures good thermal contact between module and heat sink. This new concept in laser module design allows a laser diode, an adjustable collimating lens and a drive circuit to be incorporated within a body which is just 23mm long and all without compromising the performance. The Cameo offers high output power stability with transient and polarity protection, as well as electrical isolation between diode and case. It has a latching connector that improves reliability.
Quote Request
You are interseted in 0 product

Click finish below to complete your quote request.