Cameras & Systems - Matrox
Get Quote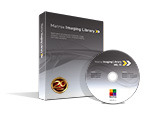 Matrox Imaging Library (MIL)
model number: MIL
Matrox Imaging Library (MIL) is a comprehensive collection of software tools for developing image analysis, machine vision, medical imaging, deep learning, and video analytics applications. The toolkit features interactive software and programming functions for image capture, processing, analysis, annotation, display and archiving. These tools are designed to enhance productivity, thereby reducing the time and effort required to bring your solution to market.




Quote Request
You are interseted in 0 product

Click finish below to complete your quote request.