Cameras & Systems - Matrox
Get Quote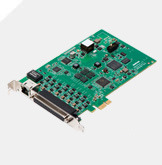 Indio
model number: Indio
Matrox Indio provides the industrial I/O and communication capabilities to turn any PC running Matrox vision software into a genuine vision controller. It provides discrete inputs and outputs managed in hardware for the real-time synchronization of a vision application with automation devices. It also provides Gigabit Ethernet connectivity for interfacing with programmable logic/automation controllers or GigE Vision® cameras equipped for Power-over-Ethernet (PoE).
Quote Request
You are interseted in 0 product

Click finish below to complete your quote request.