Cameras & Systems - Matrox
Get Quote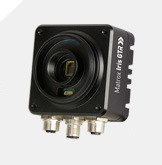 IRIS GTR
model number: GTR
Matrox Iris GTR is a line of powerful, configurable smart cameras designed for systems integrators, machine builders and OEMs who need to deploy fully custom machine vision applications. Running Microsoft® Windows® Embedded Standard 7 (64 bit) or Linux®, Matrox Iris GTR offers a PC-like environment for applications. Application development is done using Matrox Imaging Library (MIL), a software development kit with an extensive set of programming functions for image capture, processing, analysis and more.
Quote Request
You are interseted in 0 product

Click finish below to complete your quote request.