Cameras & Systems - Matrox
Get Quote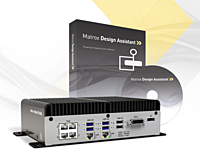 EV6 with Design Assistant
model number: EV6I5M16DA
Matrox 4Sight EV6 is a powerful industrial computer built for machine vision on the factory floor. This system pairs readily with the intuitive, versatile, and extendable integrated development environment (IDE), Matrox Design Assistant X1. Equipped with four Gigabit Ethernet ports and four SuperSpeed USB ports, Matrox 4Sight EV6 supports the use of multiple GigE Vision® and USB3 Vision® industrial cameras to enable the oversight of many production lines. Powered by an embedded quad-core Intel® Core™ processor, the Matrox 4Sight EV6 is ready to handle multi-camera inspection applications. It interfaces directly to factory automation equipment and enterprise systems through discrete I/Os, plus Gigabit Ethernet, RS-232/RS-485, and USB ports. The Matrox 4Sight EV6's industrial-strength design and careful component selection ensures its long-term availability.
Quote Request
You are interseted in 0 product

Click finish below to complete your quote request.