Cameras & Systems - Matrox
Get Quote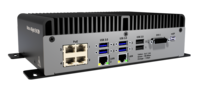 EV6
model number: EV6
A fanless design with multiple ports for GigE Vision® and USB3 Vision® cameras make the Matrox 4Sight EV6 right at home in any production facility, keeping an eye on a single line or many lines. The Matrox 4Sight EV6 is backed by a vendor with a proven track record, delivering optimized machine vision hardware and a software toolkit with a 25-year history of reliable performance.
Quote Request
You are interseted in 0 product

Click finish below to complete your quote request.