Cameras & Systems - Matrox
Get Quote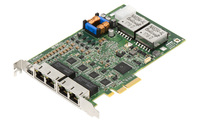 Concord PoE
model number: Concord PoE
Matrox® Imaging is pleased to announce Concord PoE, a new line of multi-port Gigabit Ethernet (GigE) adaptors with Power-over-Ethernet (PoE) for GigE Vision®. Available in two- or four-port options, these network interface cards (NICs) simplify system configurations involving multiple GigE Vision cameras, not only by handling command and streaming protocols but also providing power over a single standard Cat 5e/6 cable per camera connection. Matrox Concord PoE boards come pre-licensed with GigE Vision support in Matrox Imaging software, removing the need for an additional software feature license.
Quote Request
You are interseted in 0 product

Click finish below to complete your quote request.