Cameras & Systems - Matrox
Get Quote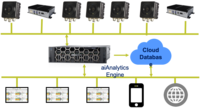 aiAnalytics
model number: aiAnalytics
This software is manufactured by Active Inspection. aiAnalytics is a turnkey solution for collecting and analyzing vision data from a large number of standard 2D & 3D vision systems. It easily connects to existing vision systems using a variety of interfaces to gather part inspection, metrology, image, & point-cloud data. This data can be explored from any location using desktop, web, and mobile application.
Quote Request
You are interseted in 0 product

Click finish below to complete your quote request.