Cameras & Systems - Imperx
Get Quote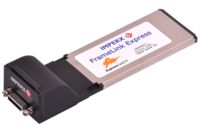 ExpressCard/34 Camera Link Frame Grabber
model number: VCE-CLEX02
Provides the functionality, performance, and versatility required by today's most demanding vision systems. The FrameLink Express is a highly versatile frame grabber capable of acquiring images from a Camera Link base camera. It features a flow-through pipeline architecture with an intelligent scatter/gather DMA engine providing over 235 Mbytes/s of throughput. A full software suite, including drivers, C/C++ SDK, and an application program, is provided with the card.
Quote Request
You are interseted in 0 product

Click finish below to complete your quote request.