Cameras & Systems - Imperx
Get Quote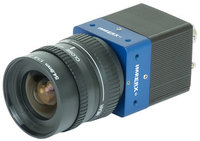 PoE-C2000
model number: PoE-C2000
The PoE-C2000 camera features the Sony Pregius IMX-265 Global Shutter CMOS sensor with a native resolution of 2064 x 1544 in a 1/1.8" optical format delivering up to 36 frames per second with Power over Ethernet (PoE) interface. The Sony Pregius image sensor delivers outstanding sensitivity and excellent image quality. The C2000's flexibility, image quality, and speed make it suitable for a broad range of diverse and demanding applications, but "one size doesn't fit all," and Imperx can help optimize the camera to your exact requirements.
Quote Request
You are interseted in 0 product

Click finish below to complete your quote request.