Cameras & Systems - Imperx
Get Quote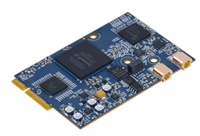 mini-PCIe HD-SDI Frame Grabber
model number: mini-PCIe HD-SDI Frame Grabber
VCE-HDmPCIe01 is a PCI Express video capture card that enables users to view and store in real time megapixel video images from any standard HD-SDI video source onto embedded PC platforms. IMPERX VCE-HDmPCIe01 is capable of capturing single or multiple frames and standard AVI clips from any SD or HD-SDI compliant video source. Each captured frame can be stamped with a user message along with the date and time of capture. A full software suite that includes drivers, C/C++, SDK, and an application program is provided with each IMPERX HD-SDI Mini-PCIe card.
Quote Request
You are interseted in 0 product

Click finish below to complete your quote request.