Cameras & Systems - Imperx
Get Quote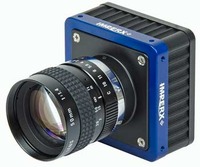 C4180
model number: C4180
The C4180 incorporates the On Semiconductor Python NOIP1SN012KA CMOS image sensor with a native resolution of 4096 x 3072 in a 4/3" optical format delivering up to 54 frames per second in either global or rolling shutter mode with either a Camera Link® Deca or PoCL output. CMOS technology eliminates smear columns from areas of ultra-bright intensity and specular reflections in uncontrolled lighting applications.
Quote Request
You are interseted in 0 product

Click finish below to complete your quote request.