Cameras & Systems - Chromasens
Get Quote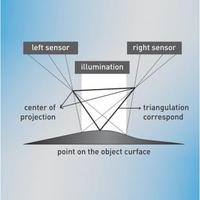 High Speed 3D Imaging & Measurement Camera
model number: 3DPIXA
Chromasens offers a unique fusion of high-quality line scan camera technology and 3D measuring technology with the highest possible image resolution. Perfect for high resolution, inline 3D measurement. Delivers more 3D pixels per second than any other technology. Outputs both 2D and 3D image data for combined processing. From 5 um to 500 um optical resolution.


3DPIXA PCB 3DPIXA Wire Bond 3DPIXA HR Data Sheet AiUltimate Data Sheet 3DPIXA Data Sheet
Quote Request
You are interseted in 0 product

Click finish below to complete your quote request.