Automation - Imperx Automation
Visit Site
Get Quote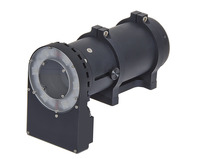 model number: EIPVR
The IMPERX EtherNet/IP™ Process Video Recorder works seamlessly with PLCs and plant floor PCs to capture video when you need it. Some of the features include: Captures up to 60 seconds of video at 250 fps, Saves Videos in avi or mpeg formats, Power over Ethernet (PoE) simplifies Cabling & Setup, Connects to File Server or NAS for Unlimited Storage, IEEE 1588 for Synchronizing with Plant Floor Equipment, Enclosure options for harsh environments. Imperx proudly announces their 3rd generation of their EtherNet/IP Process Video Recorder (EIPVR). One of the key enhancements is the use of a single PoE camera that offers 3 different recording resolutions: 640x480, 1280x760, and 1920x1080.


Quote Request
You are interseted in 0 product

Click finish below to complete your quote request.